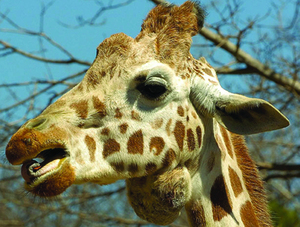 RIP to Puzzles the Giraffe.
I just saw the article in the Daily News that discussed the recent passing of the Philadelphia Zoo's 27-year-old giraffe. I'm sorry to hear it. I've always loved her name. (She's not the only local giraffe to have had a clever name -- I used to smile at the name of the late bull giraffe, Dinky, because he was anything but.)
Given that the ravages of old age were causing her to suffer, to the point where only the Final Act of Mercy could release her from her pain, I hope that by studying her remains they can learn about the needs of geriatric giraffes. Then all zoos will benefit from Puzzles's legacy.
RIP, lovely, graceful lady.