Today I got an IM from a friend who saw a Jeep in the same strange color as the one I described yesterday. So I decided to go the Jeep website to find out what THEY think this indescribable hue is called.
According to THEM, it's called "Light Khaki". I even found a couple of pictures of Jeeps in that color. Bear in mind that photos rarely or never render in quite the same color on a PC screen as they do in real life. Even so, here's a digital approximation of the shade I was posting about: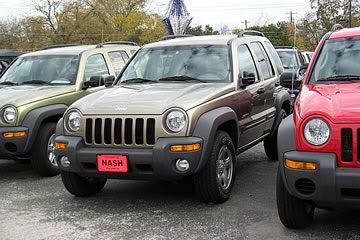 Now, how bizarre is THAT combo of grey/tan?
Maybe I should explain my obsession with colors... first of all, I've never encountered a color that I couldn't even BEGIN to name before. Never.
Second, and more importantly, I pay a lot more attention to them since the deaf-blind camp I volunteered at in 1991. (YIKES, has it been that long? It doesn't seem like it.) I was talking to the camper I was assigned with, who had
Usher Syndrome
(deafness and
Retinitis Pigmentosa
) and had been legally blind for some time. He said that what little he could see now was like looking at everything through a fog, and he missed being able to really see colors. I thought about that conversation for a LONG time after it was over. In a way, I've thought about it ever since. Every time I see a color that I find really striking, I can't help but think, "WOW, is that nice", and just appreciate it for at least a few moments.
Anyway, one thing's for sure -- I don't know if/when I'll be replacing my little old car with a newer one. But whenever that happens, the new(er) car is going to be painted with a color that I WON'T have to look up online to find out what it's called. ;o)