Well! It's certainly been an EXCELLENT past-few-weeks in these parts.
Let's start with the BIGGEST news of all, and say:
Congratulations to the 2004-05 Calder Cup Champions, the Philadelphia Phantoms!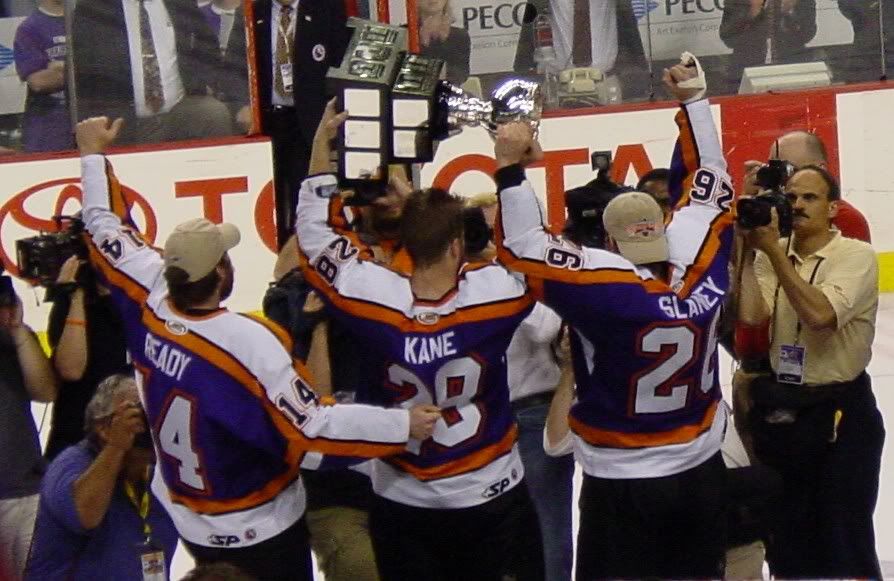 OMG. The experience of being at the game when we won was just too wonderful for words. I'm SO PROUD of our boys! They worked so hard all season long, and they earned this championship as a TEAM.
The game was won on Friday, June 10, 2005: exactly 7 years since our previous Calder Cup win. Over the weekend, I figured that as the Phantoms Phan Club's secretary, I should make sure that we send the team a congratulatory note. So I bought a congratulations card, signed it with a brief note from the Phan Club's board and membership, and included this letter:


Date: 6/11/05

To: Coach John Stevens
Assistant Coach Kjell Samuelsson
Assistant Coach Craig Berube
The Philadelphia Phantoms Players

The Board and Membership of the Philadelphia Phantoms Phan Club are delighted to congratulate you for capping an outstanding 2004-05 season by winning the Eastern Conference Championship and the Calder Cup Championship! Furthermore, we would also like to acknowledge Antero Niittymaki for earning the Jack A. Butterfield Trophy as the MVP of the playoffs.

It's a pleasure for us to see how all of your hard work and unfailing dedication has been rewarded by such success. We can now proudly declare ourselves to be fans, not only of the best hockey team in the AHL, but of the best hockey team in all of North America.

You truly have proven yourselves to be the best of the best, and you've earned it with heart, courage, and unselfish teamwork. From seeing you set the AHL record with 17 consecutive wins, through cheering as you won the Calder Cup in a sweep, this has been a magical, memorable season. Words can't adequately express what a joy it's been to watch you and support you through it all.

We rejoice with you all for your achievements, and send our absolute best wishes for you all to have a safe, happy, and healthy summer. Long may Purple Reign!

Sincerely and with great pride,

The Board and Membership of the Philadelphia Phantoms Phan Club

[list of officers' names edited]

There was a celebration rally at the Center on Monday night, and afterward, Mark and I headed around to the area where the players drive out of their parking lot. (Karla and Al stayed too, for a while.) My intent was to hand the card/letter to whichever one of the coaches or one of the captains came out first.
That role fell to John Slaney, one of our assistant captains. He pulled over to sign autographs for waiting fans. I waited my turn in the line of fans, presented him the card, told him what it was and whom it was from, and asked him to present it to the coaches and team. (The team's exit meetings with coaches were to start on Tuesday, and continue for I'm-not-sure-how-many-days.)
I am going to have to post more stories and pics later. It's about 10,000 degrees in this computer room.
But rest assured, there'll be plenty of photos from the Calder Cup Finals games that were played here (Games 3 and 4), plus the postgame on-ice celebrations and the rally on Monday night!
GO, PHANTOMS!
PURPLE REIGN!